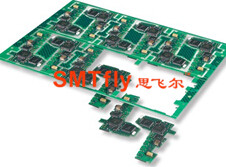 FPC Laser Depaneling Singulation Equipment,SMTfly-5L Features:
More quick and easy, shorten the delivery time;
High quality 、no distortion、surface clean& uniformity;
Gathering the CNC tech、laser tech、software tech…High accuracy、High speed
FPC Laser Depaneling Singulation Equipment,SMTfly-5L Specification:
| | |
| --- | --- |
| Laser: | Q-Switched diode-pumped all solid-state UV laser |
| Laser Wavelength: | 355nm |
| Laser Power: | 10W/12W/15W/18W@30KHz |
| Positioning Precision of Worktable of Linear Motor: | ±2μm |
| Repetition Precision of Worktable of Linear Motor: | ±1μm |
| Effective Working Field: | 460mmX460mm |
| Laser Scanning Speed: | 2500mm/s (max) |
| Galvanometer Working Field Per One Process: | 40mmх40mm |
why choose us
1. Engineers available to service machinery oversea
Engineers are available to be sent to freign countries to do machinery training and offer technical support.
2. Mature technique & forerunner to process makes high quality machinery
As largest manufactory in South China, we have 12 years experience on PCB separator machines and soldering machines.
Our R&D team continuously upgrade the existing machines to meet the market development trend.
3.Effective customer service
All of us together are stronger and wiser than any one of us individually. To succeed, we must assume responsibility, cooperate with fellow associates and with departments, effectively comminicate with one another, foster enthusiam and participate in decision-making. To be seay reachable by customers and provide prompt replies to solve their problems and create value for customers.
4.One year warranty for the machines except accessories
Robust frame construction and Japanese steel blades obtained good appraise and recognized by and oversea clients.
We offer parts for replacement under warranty free of charge, clients only need to bear freight charge.
An offline laser PCB depaneling machine is a specialized piece of equipment used in the electronics industry to separate individual printed circuit boards (PCBs) from a larger panel or array of PCBs. The machine uses a high-powered laser beam to cut through the material that connects the individual PCBs, such as a thin layer of fiberglass or a metalized tab.

The term "offline" refers to the fact that the machine does not require an active connection to a computer or network during operation. Instead, it can be programmed offline, typically using a USB drive or other similar storage device, and run independently.

An offline laser PCB depaneling machine can be programmed to cut the PCBs with precision and can handle a variety of different board sizes and shapes. It is typically used in high-volume production environments, where manual depaneling would be time-consuming and inefficient.

Using an offline laser PCB depaneling machine has several advantages over traditional methods. It can cut through materials more quickly and accurately, reducing the risk of damage to the PCBs. It can also be used to cut complex shapes and patterns, which is difficult to achieve with manual depaneling. Additionally, it eliminates the need for an active computer connection, which can improve efficiency and reduce the risk of errors.

Overall, offline laser PCB depaneling machines are an important tool for the electronics industry, allowing for faster, more efficient, and more accurate PCB depaneling without the need for an active computer connection during operation.